A foundation course is programmed to prepare students for an undergraduate degree at university. It is specifically designed for international students who want to study abroad.
Studying a foundation course will help students attain the correct level of qualifications and skills to pursue a degree at university, and it also helps students who require additional English language support. A foundation year bridges the gap if you don't have the right qualifications to go straight on to an undergraduate degree program.
Today, we are delighted to introduce you to our special guest, an 18-year-old upper hand freshman majoring in "Nursing" who has successfully harvested harmony out of challenges in her diplomatic year with the underpinning of IFCC. Her name is "Pisey Chey".
Q. Why did you choose IFCC for your IFD? And what was the motivation behind your decision?
➤ The reason why I chose International Foundation Diploma through IFCC was that I had always wanted to study abroad and intended to apply after I finished high school. However, the pandemic struck and that took me back a little bit. Since I got an automatic pass from the government, I needed to complete a foundation year either way, but with IFD, it saved costs more than in the actual university and I would still be able to have a similar experience. I was also interested in what the course offered, which were skills and knowledge necessary for higher education. Furthermore, since I will be going to an English-speaking country and everything from my personal to academic life will be in English, I wanted to be fully prepared and equipped for the foreign experience, rather than diving in without any knowledge of the world on the other side.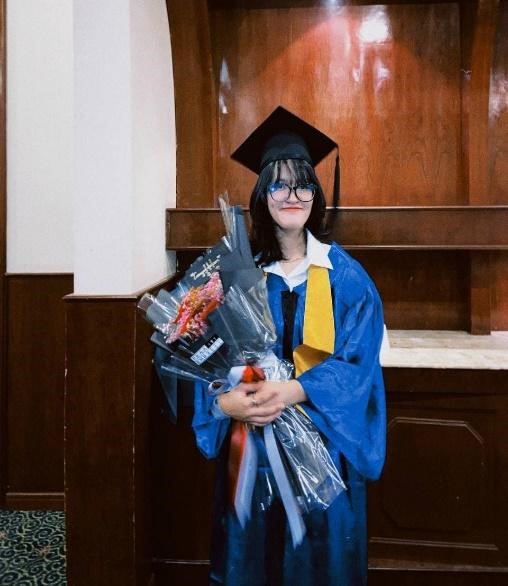 Q. Can you tell us the difference between IELTS and IFD from your perspective?
➤ The difference between the IELTS test and IFD is that IFD offers more than just English courses. In IFD (International Foundation Diploma), there is a session called English for Academic purposes, which focuses on skills needed for university life. For example, report writing, academic essay, speaking skills, note-taking, researching, critical thinking as well as presentation skills. There is also a culture studies session, which introduces the students to the lifestyles in the countries that they choose to study. In my case, I chose Australia and I got to learn all about cultural appropriation, certain traits of Australian people, about what to watch out for, and what will be expected of me in academic life, workplace, and in public. On top of that, IFD offers an international math foundation and two elective sessions related to your future major. For me, since I am an aspiring nursing student, my two electives were chemistry and biology.
Q. Can you share a bit more about your experiences regarding this course?
➤ I am very satisfied with what I got out of the program. Before heading in, I had a bit of an arrogant attitude towards the program, but I ended up working twice as hard. I thought my English was pretty good and my knowledge
about my electives would be enough to get me into my major easily. However, that wasn't the case. Everything you thought you knew about the university, there was much more than that. This course offers you a teaser of university life abroad and helps you build confidence in your skills and overall, helping you to become an attentive student.
I think it does help as it indeed prepares you for academic life in a foreign country. I also think that it is a great starting point because I got to know myself more through this program.
For instance, what I like, what I don't like, and what kind of a learner I am, and how I could improve as well as to adapt myself to different situations. Personally, I think this course made it clear for me how to approach my goals and which steps to take first.
The only thing that I wish was different was the first semester. It was chaotic and most of the time, I had no ideas about what was going on. However, I think the reason why everything was kind of all over the place was that this was a new program and this was also their first time and they were trying to figure out everything. So that was the only flaw but I totally could see them improving next term.
Q. What is your next step in the meantime?
➤ I'm waiting to hear back from my senior lecturer who is currently in contact with a university in Australia. After getting the results from this course, I am going to see if my scores are good enough to apply for some sort of scholarship.
Editor: Seth CM