Self-introduction:
Ratha Sry is a fresh graduate of Paragon International University, majoring in Civil Engineering from the Class of 2021. After graduating from Paragon.U, he recently received a scholarship to study in South Korea through the Global Korea Scholarship (GKS) program majoring in Master of Science in civil and environmental engineering.
Journey at Paragon.U:
During Ratha's journey at Paragon.U, he was one of the outstanding students at Paragon.U. After graduating from High School, Ratha joined a scholarship exam organized by Paragon.U and received a 100% scholarship from Paragon.U. He chose to study bachelor of science in civil engineering because he loves learning math, physics, and problem-solving through applying engineering principles.
In addition, Paragon.U became his primary choice because ParagonU's curriculums are well-organized similar to an international university abroad. Moreover, all the courses are taught in English, which is convenient for him to pursue higher education abroad and look for a master's degree scholarship after graduation.
For Ratha, the most memorable thing for him at Paragon.U are those times that he was nervously preparing for exams, submitting assignments and quizzes, enjoying the thrill after completing every milestone and rewarding himself with a trip, also including volunteering work at Student Council and helping juniors as teaching assistant.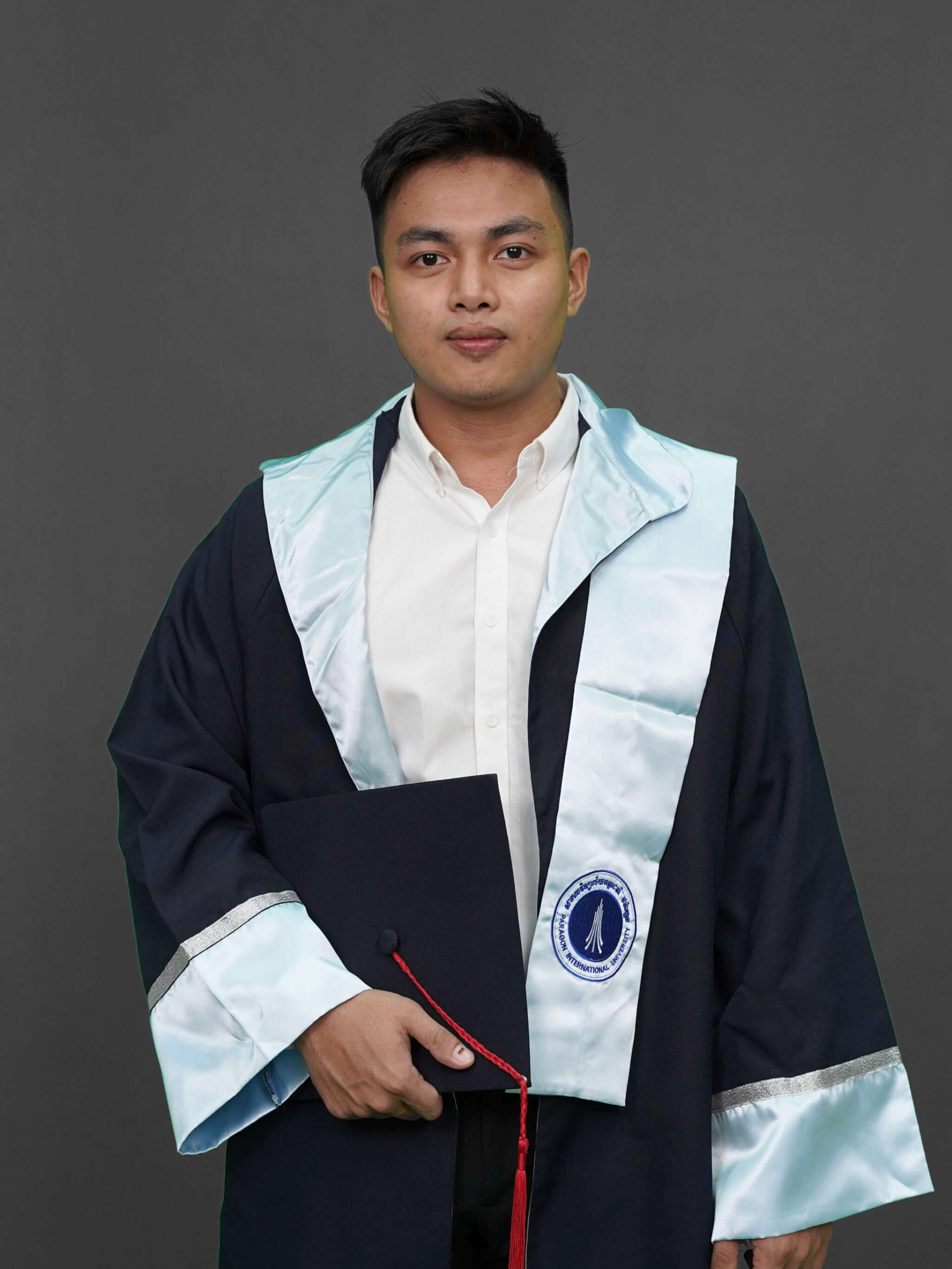 Scholarship journey:
Ratha is pursuing a Master's Degree majoring in Master of Science in civil and environmental engineering and researching advanced concrete technology through the Global Korea Scholarship (GKS) program. The Global Korea Scholarship require awardees to study the Korean language for 1 year and their expert field for 2 years in Korea. Besides paying for the tuition fee, Global Korea Scholarship (GKS) program also covers round-trip airfare, tuition, monthly stipend, and health insurance fee.
Ratha decided to pursue his master's degree in Civil and environmental engineering because he thought that the expansion of urbanization and the rising demand for new buildings required an abundant amount of construction materials to do so. However, traditional concrete production consumes tremendous energy and produces intensive greenhouse gas, contributing to climate change and global warming. Therefore, the field that he will pursue is finding a solution for making concrete that consumes less energy extreme and more environmentally-friendly concrete.
KOREA UNIVERSITY will be his university of choice throughout his time in South Korea. Korea University is one of the top universities in Korea and is equipped with world-class laboratory experiments for my research project. Significantly, the university is full of qualified professors who will help guide him toward his goal in the research field.
The most challenging part of applying for the GKS scholarship for Ratha is writing essays to convince scholarship committees and notarized documents such as transcripts, bachelor's certificates, and birth certificates. Furthermore, it makes him feel nervous waiting for the result announcement from one round to another until the final round.
For Ratha, the inspiration and motivation behind applying for studying Master's Degree abroad are that he wants to get higher education and explore another country to see the world from a different perspective. Furthermore, he joins the GSK program because GKS gives priority to an individual pursuing a profession in science and engineering. Apart from financial support and other benefits, the GKS scholarship also offers a cultural exchange experience during their first year in the Korean language.
Career journey:
After his recent graduation in 2021, he started his career as a structural design engineer working directly with the architect team to solve some of the design issues related to conceptual design and give comments regarding structural solutions to make the design structurally sound as well as enhance aesthetic good looking and also cost-effective.
Advise for Juniors:
"This is a life-changing experience for me to pass the GKS scholarship, which allows me to gain higher education and explore new culture and lifestyle in Korea. To my junior, I highly suggest you maintain your academic performance (CGPA) and exceed the bare minimum of the scholarship program you apply to for your master's degree. Furthermore, It would be great to participate in social work or join volunteering programs to grow and work as a team which will shape you into a more rounded person. Therefore, once you graduate, you will have a good academic background and a great personality. This would also make you stand out as an applicant among a pool of candidates applying for the scholarship. To everyone and people around me, including myself, I believe many paths lead to success and fulfillment in life. All you have to do is hold a strong belief in what you enjoy doing and commit to your goals."